Two of our dedicated members Nigel Parkinson and Amanda Radforth holding a massive cheque for £290.00 donated to Howlands.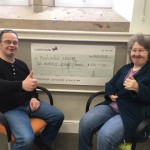 Over the Christmas period Lloyds Bank Dewsbury Branch ran a raffle to raise funds for Howlands.
The raffle display was really attractive and brought a lot of positive comments. We are very grateful to the manager and staff for their efforts in raising a terrific amount of money for Howlands. This will really help us in our work.