Dewsbury Soup – Dewsbury's Version of Dragon's Den comes the the Howlands on May the 16th from 7pm.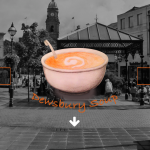 It's simple, come along, make a small donation, we suggest a minimum of £5 which includes a bowl of soup, a vote and the opportunity to listen to four local people pitch their ideas.
The winning pitch receives 100% of the donated door money, its then up to them to use their micro-grant to help make their idea a reality. The only stipulation is they live in North Kirklees or benefit North Kirklees with their idea, do not use technology during their pitch (props are allowed), and that they come back to a future Soup to let the audience know how they are getting on.
To submit an application to pitch, download and complete the application form here. To attend the event receive your place here.
The audience can live anywhere – they just sign up to say they are coming along, and pay a minimum of £5. The first Dewsbury Soup will be at Howlands on 16th May from 7pm. Pitchers can be from a charity, a community group, a business, anywhere so long as they live in North Kirklees or have an idea/project which would benefit and be delivered in North Kirklees. They are asked to complete an application form, which is reviewed by a panel of judges, and on the night 4 ideas are pitched, for 4 minutes each, with 4 questions from the audience. The only criteria are that they need to be people who need our help to get an idea, project or business off the ground, or support an existing project or business to fund something they need.
The judges also need to live in North Kirklees, and can nominate themselves. They will be sent all the application forms and select the top 4 for them, based on their own criteria. The combined judges scores determine who gets to pitch on the night.
Really looking forward to seeing you there.