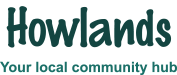 On Wednesday the 9th of November Howlands had its annual Christmas Fair. It even snowed that day which made it extremely festive.
Due to the dedicated and huge efforts of our volunteers, members and staff we raised a massive £751.00.
"Thank you to all our coffee morning customers who braved the difficult weather conditions to support us.
"An extra special mention goes to Waqaar, Moosa and Abbas who work at Lidl, Dewsbury. Out of their own pockets they supported us by supplying 24 dozen mince pies, the donation was gratefully received and we thank them for their kindness which added the finishing touches to our fair."