We are really pleased to announce that the Asda Foundation has provided Howlands with a grant for £300 to help us bring the community, volunteers and members together during our Christmas fuddle to say thank you to everyone who supports our charity and services on the 13th of December.
Pictured here is Sharon Kingswood, Asda's Community Champion based at Asda Mill Street West, Dewsbury who presented the cheque for £300 to Deborah Hall, Howlands manager, and volunteer, Hamzah Hussain.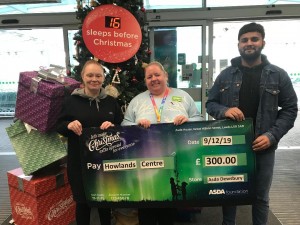 Many thanks to Sharon, for her assistance with the application and to Asda Foundation for their generosity. We look forward to welcoming you all on Friday the 13th to catch up, share stories, and raise a toast to the success of Howlands during the past year.
The Asda Foundation give independent grants and support locally relevant projects throughout the UK. Whether its helping, charities, local good causes, or community activity, all make a real difference to your local community.