The Autumn Quiz is coming to Shaw Cross Boys Club during the season of mists and mellow fruitness.
Leave the date free for Dawn's Autumn quiz Friday the 4th of October 2019 from 7pm at Shaw Cross Boys Club, Shaw Cross, Dewsbury. Book your places early and sit back and look forward to and evening of fun and food.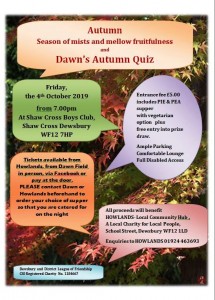 Tickets are available from Dawn Field in person, via our Facebook page, or on the night at the door. Please let Dawn know of your attendance beforehand so the correct amount of food can be orderd.
As always the proceeds will go towards Howlands, your local community hub, let's make it a great evening. It would be good to see you all there.
Many thanks.