Howlands refurbishment gets moving and to our surprise we to to view these windows which have been covered up for many, many years.
This fabulous window was covered by cupboards then by the mezzanine. They are huge and far bigger than those at the front of the building.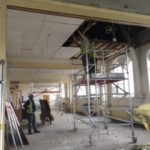 Things have certainly started moving and as you can see from the picture on the right the ceiling is already coming down.
Keep coming back to the website to stay up to date with our progress.