Looking to make fundraising exhilarating, Dewsbury gym owner Sam the Man is leading an Aerobathon to raise funds for the Howlands Centre.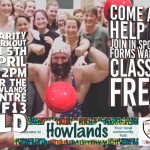 A keen community champion, the Muscle Pit owner is encouraging people to come to together to not only raise their endorphin levels but sponsorship money during a 90 minute non-stop aerobics session.
Make a note of the date, scheduled to take place at the Muscle Pit gym on the 5th April at 2pm you can get your sponsorship forms from the Howlands Centre Main Hall.
Howlands centre manager Deborah Hall says: "We were delighted Sam is taking on this challenge, and encouraging others to do so, to raise money for our community centre. It's with the kindness and dedication of people like Sam that we can continue to open our doors to provide friendship and activities to adults with disabilities to meet."
Please help make a positive impact in Dewsbury, sign-up and raise money for a good cause with a good bunch of people.