At the recent Annual General Meeting of the the League of Friendship, Tom Ellis stepped down as the Chair of Trustees.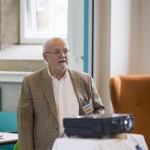 He said that he had been involved with Howlands for 17 years in various roles and felt that it was time for someone else to take a lead. He went on to say that he had really enjoyed his time working with the staff, volunteers and members.
Tom thanked his fellow trustees, and the manager Deborah Hall, for their hard work in obtaining  their recent grant from the Big Lottery.
Cath Longley who did much of the work on the grant has now taken on the role of Chair of the Trustees.
Cath said: "I am looking forward to building upon the fantastic work that Tom has done. With such a brilliant team of staff and 
volunteers and a 
brand new building, the future is looking bright

".