Pam's getting busy and here is another complete shopping bag make to order and ready to hit the shops.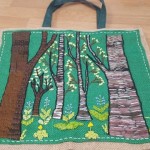 Just look at the detail! This one is for our very own Judith Cass. 
Not one to rest, Pam has already started on her next shopping bag order. Don't forget to place your order for a bag for life.