It's what you've all been wiating for! We're very pleased to announce that Howlands will be open to members once again from Monday the 6th of September, and welcoming back our supporters to the Coffee Morning on Wednesday the 8th of September at 9.30am.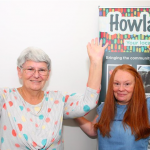 We'd like to take this opportunity to thank Kirklees Council for their support in difficult times.
We have been lucky enough to benefit from Kirklees Council's Community Buildings Recovery Grants scheme to support vital community buildings in places across the district which will help us plug the gap in our finances so that we can resume our full services.
Centre Manager Deborah Hall said: "The pandemic had a devastating effect on our fundraising efforts and our income. This grant will help us resume our work and thankfully enable us to open our doors once again to our members and volunteers on the 6th. We will be so pleased to see our regular visitors and we want to extend our welcome to new faces from across our community.
"We would like to thank all who have supported us through these difficult times."
For further details ring 01924 463693