Don't miss the Howlands Christmas Fair this week!
Join us on the 10th November between 9.30am and 2.00pm and sample the delights on offer.
From homemade gifts, to mince pies and a tombola, there will be plenty to keep your interest.
Take a look at this photo of a crib knitted for the Centre by one of our supporters.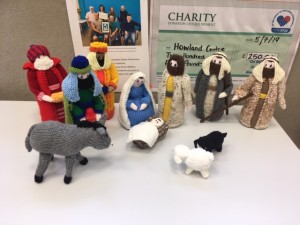 If you like hand made creations like this you can buy similar sets from one of our stalls – now wouldn't that be a unique Christmas decoration!
The fair will be our first big fundraiser for nearly two years so we are aiming to make it a great one!
Tickets are only £2 each and include a tea or coffee and mince pie.
Please come and celebrate the festive season with us at Howlands and help us raise funds so we can keep our doors open into our seventieth year. Can't wait to see you!