Whilst motoring down Daisy Hill in the Centre of Dewsbury, Deborah, our manager noticed these ducks sheltering in
a car park.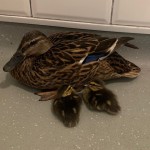 With some help she rounded them up and took them into Howlands.
When the duck and her brood  had calmed down Deborah then took them to a local canalwhere they were seen happily paddling along and enjoying the sunshine.
😍